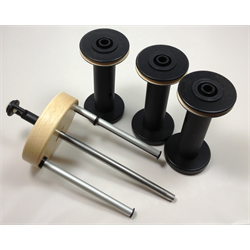 Victoria / Julia High Speed Set - Beech
This high speed set for the Victoria contains a flyer, 3 bobbins, a small whorl (you have to add this to the existing whorl) and a hook for threading the yarn through the orifice and the flyer hole. The orifice is 5 mm, but you can take out the inserts and have an 8 or 12 mm orifice.
Ratio's are 1:20 and 1:30.