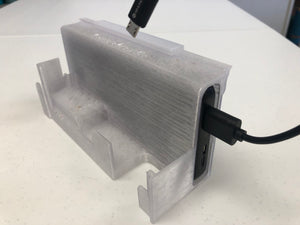 TempoTreadle II Caddy + Power for System Units
This listing is for a TempoTreadle II Caddy and optional Batteries.  This is typically purchased when a weaver is sharing the System Unit on more than one loom since the Caddy has a special connection to fit each loom that is supported.
If purchasing an option with a Battery, the short cable for going from the battery to the System Unit is included as well as the longer 6-foot cable.  If purchasing an option for AC only, a 6-foot cable plus adapter is included.
Note that this listing does NOT include the sensor array.  The reason there are different loom listings is to accommodate the way that the system unit mounts on the looms.