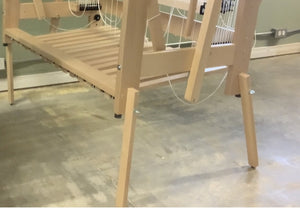 Loom Leg Extension Set for the Spring 2 or David 3
The Spring 2 and David 3 looms are designed with the ability to attach 4 leg extensions, raising the loom for easier access to the tie-ups. These leg extension poles raise the loom approximately 12".   
The Lifting Device that was previously offered has been discontinued.  The leg extensions work well. 
A youtube video shows this in action: https://www.youtube.com/watch?v=gPQ1aOOggPo&t=723s