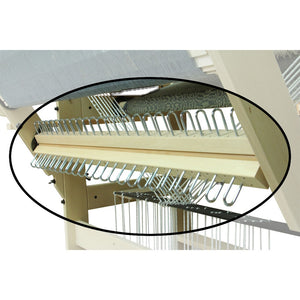 Sectional Warp Kit (1") for the Spring I Loom
The Spring sectional attaches to the existing beam.   It (and all Louet sectionals) have clips that mount in one inch increments.   Remove every other section and you have 2" sections.     The sectional can also be purchased in metric. 
Installation instructions are provided.   The "kit" includes wooden slats that attach to the warp beam, metal rod, sectional clips, instructions and a spacer for installation.

Be sure to order the correct kit for your Spring loom.  The Spring II requires the 4-slat system. 

Aid for sectional warping (Louet warping tool) is an optional item.