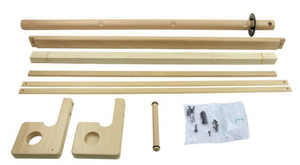 Louet Spring - Second Warp Beam
A second warp beam can be added to the Spring loom.  The second beam does not have a frictional brake and requires releasing tension from the back of the loom.
This item comes with an extra set of lease sticks and warping sticks.
We can also order second warp beams for the Spring I. Contact us for pricing and availability.