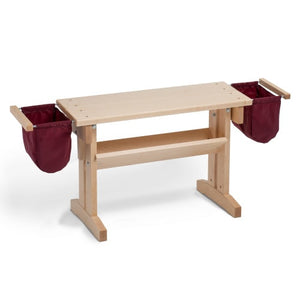 Schacht Weaving Bench
The Schacht loom bench is a beautiful loom bench for any of the Schacht or any other looms.  It is offered in maple and cherry, and comes with beautifully finished solid wood.  
It does require assembly (see picture of pieces), but I found that it was fun to put together.  You just need 2 wrenches, a couple of screw drivers a hammer or mallet is recommended, but I didn't need it.   The quality really shows as you assemble the bench.  It's a heavy, solid bench.  We will be happy to assemble your bench free of charge if you live close enough to pick it up.  Otherwise it will ship to you via fedex with assembly instructions.
You can adjust the seat height from 20" to 24".  During assembly you can choose to have the seat in a flat or slanted position.  
The bench is free of side posts, which allows you to move around unrestricted. Below the seat is a v-shaped storage bin for holding your accessories. 
Optional bench bags (shown in the picture) can be purchased with the bench or added later. The bags are made of durable Cordura cloth and can be mounted on either or both sides of the bench seat. They are available with cherry or maple end bars.
The bench is 30" wide, 14" deep, and the height can be from 20" to 24".