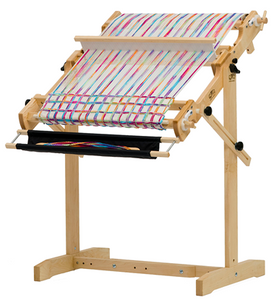 Schacht Trestle Floor Stand for Flip and Tapestry Looms
This trestle stand fits all Schacht Flip and Tapestry looms. Adjust the arms to position your loom from horizontal to nearly vertical. When the loom is in the horizontal position, it is at just the right height for use with a standard chair. Our quick-release system makes it easy to remove your loom from the stand for travel or storage.
This stand fits 15, 20, 25 and 30" flip looms and the 15 and 25" Tapestry Looms
Note: There are have been design changes to the trestle stand. Depending on when a given trestle stand and Flip Loom were built, an insert kit may be required.