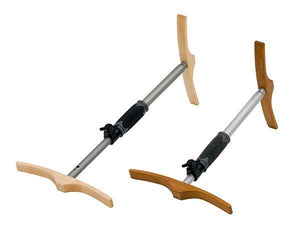 Schacht Niddy Noddy
A Handspinner's Joy!
This Niddy Noddy has features you will really appreciate: 
Adjustable for 1-1/2 or 2 yard skeins
Collapsible center tube makes it easy to remove skein
Folds flat for storage or transport
Cushioned hand grip for comfort
Balanced and lightweight
Maple or cherry woods

We stock the Maple version of this Niddy-Noddy.  Cherry is available, but there will be a delay of several weeks.