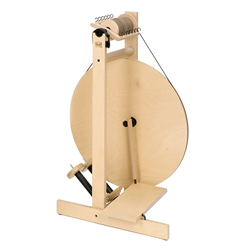 S17 Spinning Wheel - Unfinished
The budget spinning wheel S17 is designed for the aspiring new spinner. To achieve cost savings it is unlacquered and mainly made from laminated birch. The wood is sanded and the edges are rounded, so it only requires a finishing with lacquer, stain or wax.
The wheel comes as a self-assembly kit with a lazy kate and three bobbins included. The technical specifications are the same as the IrT version of the S10 Concept, so any S10C flyers and bobbins will fit.
Specifications:

Irish Tension (bobbin lead)

Main wheel: Ø 50 cm (19 3/4′′)

Ratios: 1:5.5, 1:7.5, 1:10.5

Orifice: Ø 13 mm, height 70 cm (27 5/8′′) • Weight: 5 kg (11 lb)