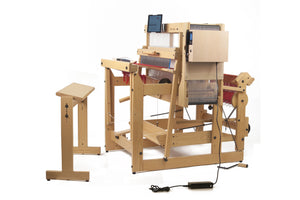 Louet Octado Dobby Loom
The Octado loom is an 8-shaft loom where you never need to do a tie-up! It has an electronic interface that uses a WIF to determine the shafts to raise for each weft pick. LoftyFiber has a driver to use with your PC to guide the weaving. The Octado comes in three weaving widths (70, 90 and 110cm). These widths are approximately 27 3/4", 35 3/8" and 43 1/4". The Octado always has 8 shafts. The loom comes with a 10-dent reed and 600/800/1200 texsolv heddles. The electronic dobby is sold separately (see listing) as it is possible to use a mechanical dobby chain with this loom. We recommend the electronic dobby but we can order the mechanical dobby.
We also supply TempoWeave Dobby Software that works with this loom.
The electronic dobby is listed here: https://loftyfiber.com/products/octado-8-shaft-dobby-head
 Free shipping to US and Canada. Contact us for more information about this loom!