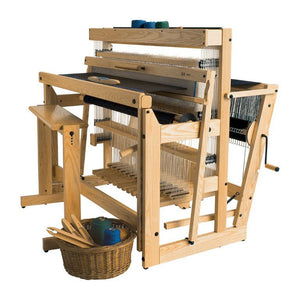 Louet Delta Loom
** free shipping and tempotreadle sensor array or comparable store credit **
Delta is a comfortable and solid loom with all the innovations that make Louët products famous. The Delta uses the Louët parallel counter march system and the moving breast beam. The springy tie-up device on the treadle gives a progressive shed. This means the shed widens gradually towards the back harnesses so that the warp threads, above and below, always are on even levels.
The treadles hinge on the backside of the loom, so they treadle light. The loom is equipped with a friction brake device on the warp beam and a convenient advancing system on the cloth beam. It is available with eight or twelve harnesses and in two weaving widths: 110 cm (43 1/4′′) and 130 cm (51 1/4′′).
Delta is made of lacquered ash and comes with the castle section assembled. The loom is equipped with a built-in raddle, a shelf for storage, a stainless steel reed 40-10 (10 dpi), 1200/1400 Texsolv heddles (330 mm), tie-up and lease sticks and sixteen warp sticks.
The castle section of the loom with the parallel countermarch cords, shafts and lams comes pre-assembled.