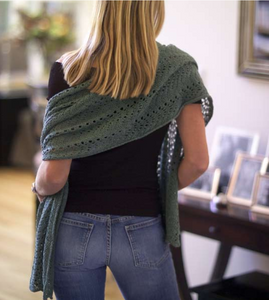 Lacey Pattern
Lacey featuring Loftyfiber Euroflax.  This is a digital pattern download.
Easy feather & fan stole, machine wash & dry…and the more you wash, the softer the drape!
Yardage requirements for two sizes:  810, 945
Feather and Fan Pattern: 18 sts, 4-rows
 Needle Size:  US 7
Finished with reverse single crochet edging.