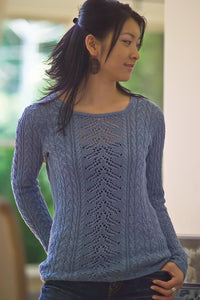 Kirsten Pattern
PullKirsten featuring Loftyfiber Euroflax.  This is a digital pattern download.
Looking through Trudy's designs, you will notice that there are very few that are done in "plain knitting." Trudy always said that knitting in stockinette stitch would put her to sleep. Kirsten was designed to ensure that would never happen when knitting it: cables, lace and linen combine to create this beautiful sweater. The increases in the sleeve were designed so that when they are sewn in, the cables from the body line up perfectly with the underarm sleeve cables. Knit on circular needles, knit-in hems and a square neckline combine to make this sweater extra special. A four season sweater, it is a great addition to your wardrobe and would make any knitter proud to say "I made it myself."
Shown in 35" on 32" bust with 3" positive ease .
Available Sizes 
Bust 35 (381/2, 421/3, 461/3, 521/3, 57)"
Yarn 
Euroflax Sport 100% Wet Spun Linen, 
270 yd per 100g skein. Shown in #18 Peacock and #31 Lake Placid 
Skeins Needed: 5 (6, 7, 8, 9, 9)
Needles  US 0, US 3
Gauge 24 stitches and 32 rows = 4 inches
in lace pattern