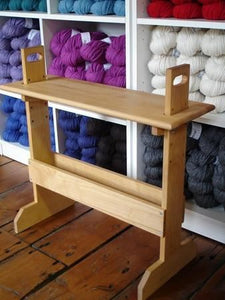 Harrisville Designs - Weaving Bench (small and large)
The Harrisville bench is designed with a tool box below the seat for convenient storage of weaving supplies. The seat height is adjusted easily by changing the position of the seat braces. A unique feature of our benches is that you can set them either to remain steady or to rock slightly as you weave. Most people find that the rocking motion adds comfort and lessens back fatigue. 
The small bench is recommended for use on the Harrisville 22" and 36" weaving looms.   I also use this bench on the other small looms, as well as table looms. When transporting this loom to workshops, the seat lifts off for easier transportation in your vehicle so it doesn't take much space.
The large bench is well suited to large looms as it adjusts from 19" to 25".  
This is a kit and easy to assemble (comes with instructions). The wood is very good quality and comes with a bit of sandpaper (although it's already very smooth) and oil to preserve the beauty.
We have a small new bench assembled and ready to go for local pickup.
Bench Specifications: 
Small Bench: Seat width: 9" Seat length: 27-1/2" Adjustable height: 17" to 22" Weight: 16 lbs.
Large Bench - 
Seat width: 9"; Seat length: 32"; Adjustable height: 19" to 25"; Weight: 23 lbs.