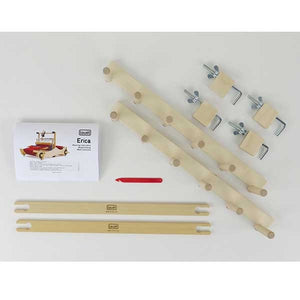 Erica Accessory Bundle
The accessory bundle for the Erica provides all the tool required to start weaving along with an instruction manual.  
Bundle includes:
2 Stick Shuttles
Heddle Hook
Warping Posts
Weaving Instruction Manual
If you a rigid heddle weaver looking to learn multi-shaft weaving, note that you will want to be able to wind a warp chain.  The warp posts provide a method to wind your chains, as do warping board and reels.