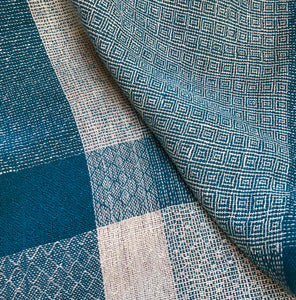 Diamonds and Squares Towels Pattern - by Christine Jablonski
A point twill pattern woven with a color and weave center creates beautiful motifs throughout. Woven in a fine 30/2 Euroflax linen gives these towels amazing hand and drape. This listing is for the pattern download that includes a pattern PDF as well as a WIF file.
Finished Size - 3 towels, 18" x 28" after washing and hemming. 
Requirements"  8-shaft table or floor loom Reed: 8-dent, sleyed 3-3-3-4 Shuttles: 2 boat or stick shuttles Bobbins: 2, for boat shuttles, minimum weaving width 19"