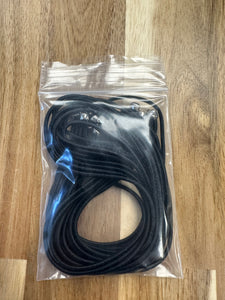 Replacement Treadle Aid Cords for Wolf Pup 8.10 and Baby Wolf Looms
Stretchy black elastic cords are supplied with the Wolf Pup 8.10 and the Baby Wolf 8-shaft looms.  These ties are added at the back of the treadles to help lower shafts where the weight is light.
The 10" treadle aid tie-ups  are used on these looms without height extenders.  The 11" version is for looms with the height extension.
This listing is for a pack of 10 ties.  If out of stock, please allow 1 to 2 weeks for delivery.