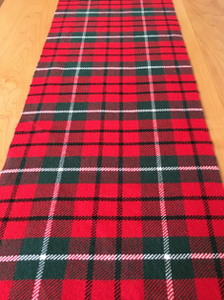 Christmas Tartan Runner Weaving Pattern and WIF
This tartan plaid is woven in holiday colors using a 2/2 twill.   The listing produces a zip file with PDF instructions as well as the WIF (weaving information file) for weaving software and TempoTreadle.
Structure: 2/2 Twill
Sett: 24 EPI
Shafts:  4
Width in Reed: 12.5 INCHES (300 ends)
Reed:  12 Dent, sleyed 2 ends per Dent  
Warp Length: 4 yards 
Woven Length:  81" woven length, plus 1.5" each end for hems.
Finished Size:  After washing, machine drying and hemming, finished size is approx. 10.2" X 70".
Yarns:  Brassard Organic 8/2 Cottolin or  Brassard 8/2 Cotton  (1680 yards per tube)
Yarn Quantity:
Red 1119 yds, Black 160 yds, Green 640 yds, White 80 yds
Red will use 66% of one tube, Green 39% of one tube, and white and black less than 10% of a tube.