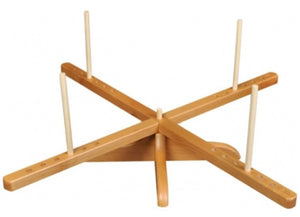 ChiaoGoo Wooden Yarn Swift
This Amish-style, Table Top Swift requires no clamping! It has non-skid pads on the base to keep it from moving. Four adjustable pegs can be easily moved to accommodate a hank of yarn up to 62" (155 cm). This swift can be set up or broken down in a matter of seconds.
It comes in its own box for storage, or keep it out on your table for everyone to admire!
Replacement pegs available for separate purchase.