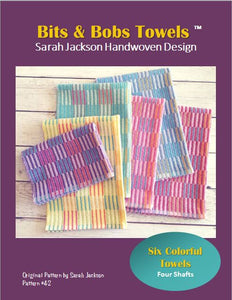 Sarah Jackson Handwoven Design - Bits and Bobs Pattern Download
These happy towels were inspired by the fresh, bright colors in a magazine article.  These towels are a twill variation that include 13 colors!
The pattern name, Bits & Bobs, comes from the round orange glass container in the photo which is described as a Bits and Bobs Storage Container. Bits and bobs, defined as things or objects of different kinds, seemed a just-right name for the diverse colors of the towels.
This download includes a detailed 19-page instructional PDF as well as WIFs (standard tie-up and lift plans) for those with weaving software.