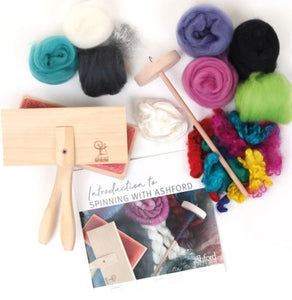 Ashford Introduction to Spinning Kit
NEW! Ashford Introduction To Spinning Kit
This is a fabulous new kit designed for the complete beginner. It is a great introductory kit for all potential new spinners or fiber artists.

Kit contains:
One pair of Hand Carders 72ppsi 185 x 80mm
Drop Spindle
Approx. 150gm (5¼oz) of fibre including Corriedale, Merino slivers, Dyed English Leicester Locks, Silk and Angelina
Learn to Booklet – with full step-by-step instructions.