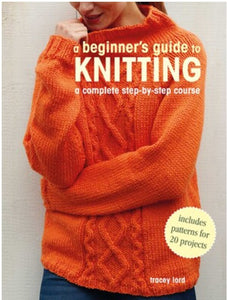 A Beginner's Guide to Knitting by Tracey Lord
A step-by-step guide to stitches and techniques, from knit and purl to Fair Isle, with 20 beautiful projects to make.
If you would like to start knitting, or if you know the basics but would like to learn the more complex skills of shaping, lace patterns, and colorwork, then 
A Beginner's Guide to Knitting
 is for you. Starting at the very beginning with casting on, garter stitch, and binding off, the 20 workshops take you through different stitches and techniques, with color artworks to show you how everything is done. At the end of every workshop there is a project to make which is designed to put what you have learned so far into practice. As you progress through the workshops, you will also learn how to read patterns, join pieces, and knit in the round. The projects include a table runner made up of squares knitted in garter stitch, a child's sweater with intarsia design, a messenger purse with cable patterns, and a textured throw with bobbles and fringing. There is an introductory section on tools and materials, and there's also a handy stitch reference guide in case you want to refresh your memory.