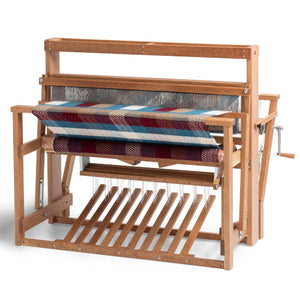 Schacht Standard Floor Loom
**FREE TEMPOTREADLE SYSTEM ARRAY WITH PURCHASE OF LOOM**
** Free Shipping **  
Schacht's Standard Floor Loom comes in low castle and high castle versions, available with 36″ and 45″ weaving widths. Both looms take up identical floor space and function the same. The lower profile of the Low Castle loom appears visually smaller, while the High Castle loom includes a storage tray and holes drilled in the top of the castle uprights for an extension lamp.  The High Castle is recommended for use with TempoTreadle as it provides a perfect place to place the display.
The Standard Floor Loom has an underslung jack mechanism to raise the shafts. The jacks pivot from two points equidistant from the center and lift the shafts by pushing up on the center point. A parallel lamm system gives this loom a light treadling action without any adjustment of tie-up cords.
The tie-up system is quick and easy to use. Pre-measured nylon tie-up cords hang from the lamms and are attached to a treadle by sliding the appropriate cords into the treadle slot. This makes changing tie-ups very fast.
Other special features of our Standard Floor Looms include: friction-reducing aluminum shaft channels, a back beam that folds with or without a warp on the loom, removable back and breast beams, and an adjustable open-sided beater. The braking system employs a ratchet and dog on the cloth beam and a friction brake on the warp beam—this combination give you precise tension control at all times.
For pricing on the 4-Now-4 Later and low castle models, please contact us. 
*The 4 Now-4 Later model is an 8-shaft loom shipped with 4 shafts installed and the space to add an additional 4 shafts. You can purchase a kit to add 4 shafts at a later time. These looms are shipped with all the heddles, tie-ups, and other items normally included with an 8-shaft loom.