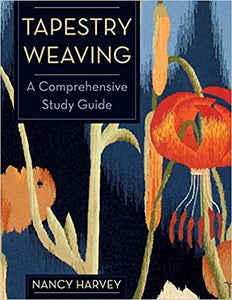 Tapestry Weaving-A Comprehensive Study Guide - Harvey
It's easy to learn tapestry weaving from start to finish with Nancy Harvey, one of America's best-known teachers of this exciting craft. Using the same clear step-by-step approach that makes her workshops so successful, Nancy leads you through building a simple frame loom, to mastering the basic techniques, to completing handsome pieces based on her designs. She even provides tips on how to prepare designs of your own. In this book, you will find:
Beginning and intermediate samplers to help you learn the basics
Hundreds of highlighted tips for weavers of all levels of experience
Six practice designs for building skills
Ideas inspiring your own designs, even if you "can't draw"
Over 380 illustrations and photographs
With hundreds of diagrams, tips, and tapestry designs, Tapestry Weaving: A Comprehensive Study Guide is essential reading for tapestry artists and handweavers alike.