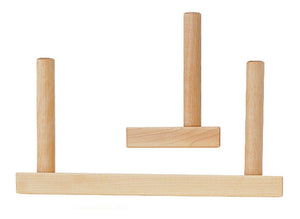 Schacht Warping Pegs
Warping Pegs are the simplest and most portable warp-measuring tools. They clamp to a table or counter; the single peg placed at one end of the warp length and the pair of pegs placed at the other end, spread as far apart as the warp is long. 
2 c-clamps are included.
These are a great option for travel when you need to wind a smaller warp chain and don't want to take the larger board or reel.