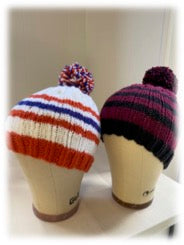 August 12 Months of Christmas - Team Spirit Hat - Choose your Favorite Team Colors!
Note:  We inadvertently linked to the Team Spirit Hat in the September Newsletter.   Here is the link for the Ridgeway hat: 
https://loftyfiber.com/products/september-12-months-of-christmas-ridgeway-hat
***
PDF Pattern by Judy Rising:  
Supplies: Berroco Ultra Wool, 2-3 skeins in your chosen team's
colors. Size 6 and size 8 sixteen inch circular needles, size 8 double pointed needles, marker, tapestry needle.
Gauge: 19 sts/24rows equals 4 inches in pattern Size to fit 20 (22) inches
NOTES From Judy: This hat is an experiment in twisted stitches. Twisted rib is one of my favorite ribbings, so I make most of my hats using it. I began to wonder what would happen if I carried the twisted stitches up into the body of the hat. Well, it gave a corrugated look to the fabric and I really liked it. But an unexpected effect was that it made the stripes look like they were zigzags.