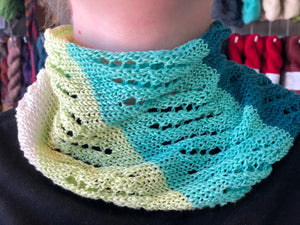 June Project for the Twelve Months of Christmas - Euroflax Mini-Skein Beach Cowl Kit
This fun knit has the pattern and linen yarn for two light-weight beautiful cowl in 5 colors!  The Euroflax mini-skeins provide interest as you knit with the 5-different colors.  Knit the kit as shown with Cream, Wasabi, Mint, Teal and Marine and knit more colorways by making your own sets of 5 mini-skeins.   If ordering online, send us an email with your color choices.
The kit has the yarn and printed pattern.  There is an option to use a provisional cast own and kitchener join, or you can simply cast on normally and sew the join.  You'll need a size 7 24" circular and another 24" circular in a size 5, 6 or 7 for the top needle on the provisional cast on. YouTube links are provided for the provisional cast on.   
Make one for yourself and another as a gift!