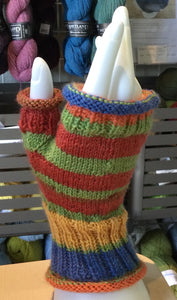 April Project for the Twelve Months of Christmas - Roly Poly
By Judy Rising
These mitts were inspired by a pair of fingerless mitts I saw in a Sundance catalogue. There are instructions for both the rolled edges and just plain ribbed edges. This pair has mismatched stripes which appeal to the younger among us. If you want your stripes to match, I recommend taking a picture of your starting yarn, so that you can match it when you get ready to start your second mitt.
This listing is a digital pattern download.  If you are in the shop, we'll print it for you.
Sock yarns are here: Link to Sock Yarns   The picture is shown in one of the Heritage Prints colorways.