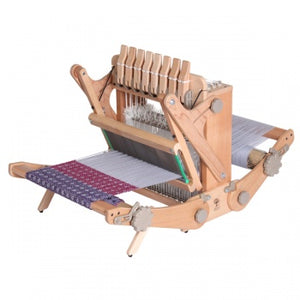 Ashford Katie Loom w/Carry Bag
CONTACT US ABOUT TEMPOTREADLE FOR THIS LOOM.    
Loom is available for quick delivery.
The Katie Loom is the perfect multi harness loom for workshops, sampling, travel and fun. 
The Katie Loom comes assembled and lacquered.
Includes: 2 lacquered 36cm (14ins) shuttles, 10 dpi stainless steel reed, 320 texsolv heddles, threading hooks, step-by-step instruction booklet and sturdy padded carry bag. Just add yarn!
Portable – easy to fold and pack
Compact - 30cm (12ins) weaving width
Light – 6.5kg (14¼lbs) 
Smooth levers and auto bounce back overhead beater
Easy threading – beater flips up & out of the way
Eight harnesses – a fully functional table loom, unlimited possibilities.
Free Shipping
TempoTreadle is now available!   Free sensor array with purchase of Katie loom.  You just need the System Unit. 
For local customers, we have one assembled demo model available.  No shipping on the demo.