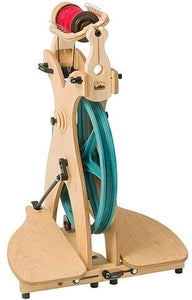 Schacht Side Kick Spinning Wheel
The Sidekick spins great and is easy to fold and carry along!
Folds to 21.5″ h x 8.25″ w x 15″ d.
Integrated storage of bobbins, flyer, and whorls for transport.
Lightweight at 13 pounds.
13.7″ drive wheel
Ratios from 4:1 to 13:1.
Long, comfortable treadles.
Uses the same bobbins, whorls, and flyer as the Schacht Matchless and Ladybug wheels.
The Sidekick can be purchased without the bobbin-flyer assembly (contact us for information)
25″ orifice height for comfortable spinning.
Employs Scotch tension with precise control knob.
The drive wheel spins on ball bearings. The flyer turns on self-aligning bearings.
Drive band tension adjuster allows for all whorls to be used with one drive band.
Comes with a canvas carrying bag.
Comes with 3 travel bobbins, fast and medium whorls, threading hook, and adjustable carrying strap.  Here are a couple of videos about the sidekick:  https://www.youtube.com/watch?v=qrjSNUmvZhE   https://www.youtube.com/watch?v=qrjSNUmvZhE
 The canvas bags are no longer included, but may be purchased separately for $84.70.