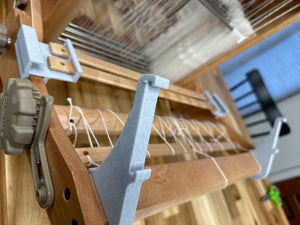 Helping Hands and Raddle for the Ashford Katie Loom
The LoftyFiber Helping Hands and Raddle for the Ashford Katie loom make beaming and threading simple.   The Helping Hands is custom engineered for the Katie to hold the cross sticks at convenient positions for spreading the warp in the raddle, beaming, and easily move to the threading position once beamed. 
The Helping Hands require use of two Ashford cross (lease) sticks that are included with the Katie loom.  
You can share two 6-inch sections and caps from another loom with the addition of the Katie clips (available below).  If you are planning to use LoftyFiber raddle sections from another loom, be sure they are the newer model that has the groove for the clips. 
The Raddle Kit contains:   2 6-inch raddle sections and caps, 1 1-inch cap, 4 short Ashford clips, one purple sleeve
A videos are available on learn.loftyfiber.com for Ashford Table and Brooklyn looms that are similar to warping on the Katie.