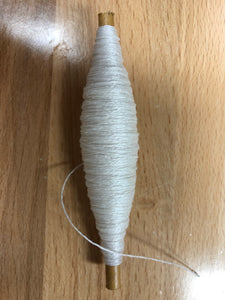 Euroflax 30/2 Paper Quills for Hems
These paper quills are 4-inches long and wound with about .2 ounces of Euroflax 30/2 linen.  You can pop these into your Schacht, Leclerc or Flying Dutchman shuttle and weave the first of your hem when weaving with a thicker linen weft yarn.

These paper quills are also convenient for sampling!  We normally wind these in Cream, Natural or Black (choices on the drop down).   If you'd like another 30/2 linen color, just select "Selected Color (email)" on the drop down and send us an email with your color choice.