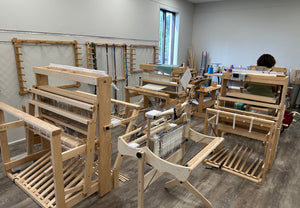 Skill Building 3-day Weaving Workshop - Jan 26-28th, 2024
Skill level: Beginner to Intermediate

Cost: $225 plus yarn cost
Where: LoftyFiber, 415 E 1st Avenue, Easley SC 29640.   
When: Jan 26 - 28 (Friday, Saturday, Sunday)  9:30 am to 5 pm Friday and Saturday, 9:30-noon Sunday
This 3-day workshop is for both beginners, as well as weavers who want to improve their skills.   We will assist you in selecting from several weaving projects, including tea towels, runners and scarves.  The complexity of the project will vary based on your experience level.
Looms will be assigned at registration on a first-come, first serve basis.  You may pay online or call to register. If registering online, please call after registering so that we can complete your loom selection.  We will have floor, table and rigid heddle looms for selection.  You will perform all the steps of winding a warp chain, beaming, threading and sleying your reed in preparation for weaving.  You may thread and weave with TempoTreadle.
We request that your project, yarn and colors are selected prior to the start of the class.  This selection may be done by email if you aren't local. Contact us for lodging recommendations and details.