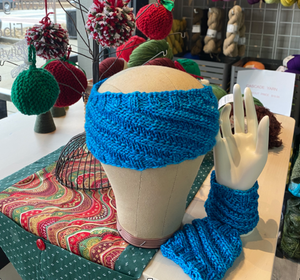 January Project for the 12 Months of Christmas
This Spiral Ear Warmer and matching Wristlets is super soft and lovely!   You'll have enough yarn left for a second ear warmer or another pair of wristlets!  The kit includes the pattern and one skein of Malabrigo Rios in the color of your choice. 
You'll also need one size 6 circular needle in a 16-inch length and 1 set of size 6 DPNs, a stitch marker and tapestry needle.   
Gauge: 18 stitches  equals 4 inches
Gift number One is in the bag for Christmas, 2022!
Have fun each month with our "12 months of Christmas" projects and have 12 great gifts ready by the end of year holidays in 2022!

If ordering online, please email us at info@loftyfiber.com with your color selection.  See the Rios listing (below)  for what's currently in stock!  
https://loftyfiber.com/products/malabrigo-rios-worsted-weight-superwash